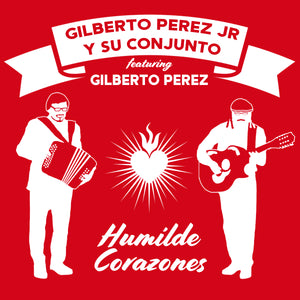 Rancho Alegre
CD - Gilberto Perez Jr y Su Conjunto - Humilde Corazones
Regular price
$12.00
$0.00
Unit price
per
Humilde Corazones is the second studio studio effort from Rio Grande Valley-based Gilberto "Chore" Perez Jr y Su Conjunto. Among the ten solid, hardcore Conjunto tracks are three original compositions by Gilberto Jr ("Dame Otra Oportunidad," "Luz Perlita" and "Estrellitas Caen Del Cielo") and two from longtime friend and collaborator Julian Garcia ("Hay Veces Que Nada El Pato" and "El Sueño de Julian"). 
Also appearing on this album is the legendary Gilberto Perez Sr, whose unmistakably unique voice and style have been part of the soundtrack of the lives of generations of fans since the late 1950s. 
Backing Jr and Sr on this album and on tour is one of the tightest groups around: 
Juan Antonio Tapia - Accordion and Vocals
Javier Perez - Drums
Aldo Solis - Bass

with special appearances by: 
Rene Luna Sr - Drums
Epi Martinez - Cowbell
This album was released on Rancho Alegre Records in July 2018. 
Track Listing:
1. INTRO
2. Dame Otra Oportunidad - Gilberto Perez Jr.
3. Luz Perlita - Gilberto Perez Jr.
4. Estrellitas Caen Del Cielo - Gilberto Perez Jr.
5. El Polvorete - DAR
6. Pensaba - DAR
7. Los Desvelos Míos - DAR
8. Castígame - DAR
9. Tu Retirada - Jose A. Jimenez
10. Hay Veces Que Nada El Pato - Julian Garcia
11. El Sueño De Julian - Julian Garcia
---