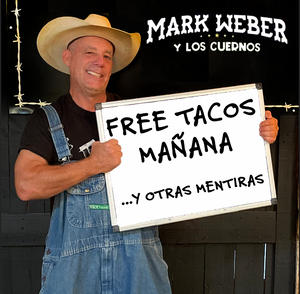 Rancho Alegre
CD - Mark Weber y Los Cuernos - Free Tacos Mañana...y Otras Mentiras
Regular price
$20.00
$0.00
Unit price
per
"Free Tacos Mañana...y Otras Mentiras" is the fifth studio album from San Antonio-based hellraising iconoclast Mark Weber, known to friends, fans, and foes as "El Tacuache."
When he's not needling long-suffering Dallas Cowboys fans on Facebook, playing softball, roller skating, hauling junk, playing accordion at San Martin de Porres church, or taking over the airwaves on KEDA radio in San Antonio, Weber can be found entertaining crowds far and wide with his unique combination of humor, showmanship, talent, and heart. His live shows are not to be missed!
In between all of that, and sometimes during, Weber writes songs. Of the twelve tracks on this album, ten are El Tacuache originals, solidifying Weber as one of Conjunto's most prolific songwriters. Not only that, his songs also carry on the tradition of folks like Wally Gonzalez and the late, great Nick Villarreal, offering a humorous take on life.
On this album, you'll hear a capirotada of styles from straight-ahead Conjunto to old time rock and roll to country to cumbia, and more. You'll hear satire, social commentary, and even a heartfelt tribute to his fellow veterans. For a bilingual transplant from Ohio who learned to play the accordion from Valerio Longoria, this just makes sense. So buckle up, grab some free tacos, and take a spin with Mark Weber y Los Cuernos.
1. Free Tacos Mañana...y Otras Mentiras - M. Weber
2. Busted for Drugs - M. Weber
3. El Quelite - S. Gutierrez
4. Fireball Medley - J.P. Richardson, J. Greenan, J. O'Keefe, and D. Owens
5. I Asked Her to Kill Me - M. Weber
6. Las Sucias - M. Weber
7. Mas Chicano Que Tu - M. Weber
8. Mas Gringo Que Tu - M. Weber
9. Paracaidistas - M. Weber
10. Sancho Via (Banda) - M. Weber
11. Sancho Via (Conjunto) - M. Weber
12. Splenda Daddy - M. Weber
---